Condoms
Safe and consistent use of male or female condoms can bring down the risk of unplanned pregnancy and the transmission of most sexually transmitted infections (STIs) during sex, including chlamydia, gonorrhoea, syphilis and HIV.
Condoms are available to buy in shops or online.
Young people aged between 13 and 19 years old can sign up to the Sefton C-Card Scheme at a variety of Sefton community venues and the pharmacies. They can also sign up for C-Card at any PACE sessions for young people.
Click on the logo for details.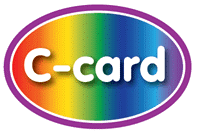 For more information on condoms
you can visit NHS Condoms or male (external) condoms  or female (internal) condoms